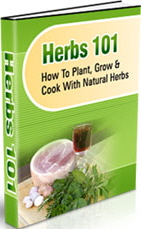 Not only will the information in this e-book help me to understand the value of organic herbs, but I will also learn how to grow my own herbs, best herbs for cooking, herbal remedies, and much more!
Here's What You Will Find Inside:
Chapter 1 – An Introduction To Herbs

Chapter 2 – Herbs In The Kitchen

Chapter 3 – Growing An Herb Garden

Chapter 4 – Collecting Herbs

Chapter 5 – Drying Herbs

Chapter 6 – Storing Herbs

Chapter 7 – Adding Herbs To The Cook Pot

Chapter 8 – Home Made Herbal Mixtures

Chapter 9 – The Herbal Medicine Cabinet

Chapter 10 – Where To Find Seeds And Plants

Chapter 11 – Where To Find Dried Herbs

Chapter 12 – Summary

Chapter 13 – Additional Resources
As you can see by owning this informative guide, you will be well on your way to improving your diet and your health.
Click the Order Now button below and Claim Your Special One-Time Discounted Copy of Herbs 101 before this page goes away forever!

Just $3.95